Petition to: Texas Houston Methodist Hospital
6,830
people have signed. Help us reach
10,000
signatures.
A "bioethics" committee has determined that this conscious man should be taken off life-support
Our worst fears about hospital "death panels" are coming true. Now, we must act to save an innocent man's life.  
A so-called "bioethics" committee at Houston's Methodist Hospital has ruled that Christopher Dunn's life support treatment should be cut off, despite the fact that he has consciously expressed his desire to live and continue receiving support. 
According to Breitbart, "[Christopher] Dunn is a former sheriff's deputy and has worked as a Homeland Security officer but had no health insurance when he got sick. He has been in the hospital for eight weeks since a noncancerous mass was found where his small intestine connects to the pancreas . . .  the mass is squeezing off the small intestine and is affecting his liver and kidneys."  
Now, the hospital's bioethics committee has decided to remove Dunn's life support and administer morphine. They told his mother, Evelyn Kelly, that Dunn will die within minutes if this plan is followed. 
Texas is one of the few states that allows a panel to determine the life and death of patients when there is disagreement between the patient's physician and the patient's family or the patient himself. 
Dunn's lawyers say that the Texas statute is denying their patient due process rights and is unconstitutional. They explain, "A criminal on death row in Texas has more rights than a patient in a Texas hospital." 
Texas Right to Life leader Melissa Conway further explains, "It is unprecedented how unconstitutional this statute is. It truly allows the rights of a patient to be stripped away from a patient or a patient's right of attorney and gives them to a faceless panel of hospital administrators."
A Harris County judge has granted two consecutive two-week extensions thus far, but Houston Methodist Hospital has countered these interventions with additional court filings to remove Chris's mother from the process. 
His mother, Evelyn, has been vigilant in protecting Chris since he is intermittently sedated. 
We must act NOW to save Christopher Dunn. 
Please sign this petition to the hospital administrators and spread this news far and wide, so that Dunn's case will not go unnoticed any longer.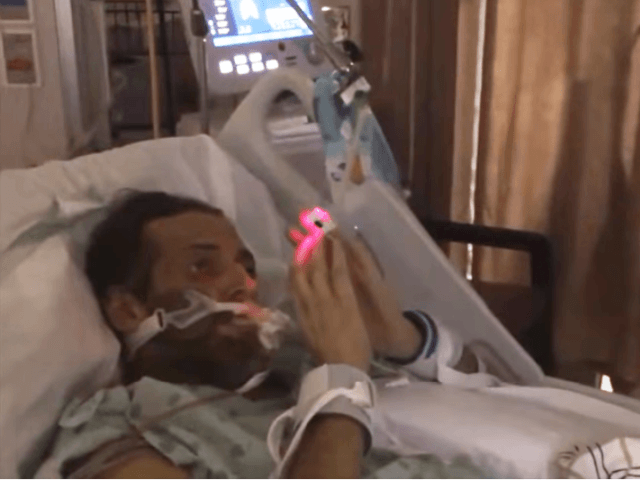 Chris has a right to life
[Your Name]
A "bioethics" committee has determined that this conscious man should be taken off life-support
6,830
people have signed. Help us reach
10,000
signatures.