Send your words of solidarity to imprisoned Christian, Asia Bibi, whose sentence may soon be reviewed by the Supreme Court
20,913
people have signed. Help us reach
50,000
signatures.
Kiállunk Asia Bibi mellett
Azok, akik régebb óta közösségünk tagjai, sokat hallhattak Asia Bibiről, akit 2009-ben istenkáromlás hamis vádja miatt tartóztattak le, majd ítéltek halálra Pakisztánban. Asia nem részesült tisztességes és igazságos eljárásban és ítéletben, nem volt esélye megvédenie magát a hamis vádakkal szemben. Azóta is börtönben van.
Asia ügyében többször felcsillant a remény, mégsem engedték még eddig szabadon. Ügyvédjeivel folyamatosan fellebbeznek a halálos ítélet ellen. Beadványukra úgy néz ki pozitív válasz érkezett: a pakisztáni Legfelsőbb Bíróság elnöke bejelentette a halálos ítélet közeljövőben megkezdődő felülvizsgálatát.

Nem könnyű a pakisztáni keresztények helyzete. Asia Bibi az évek során újabb és újabb fenyegetéseket kapott; volt, hogy radikális iszlamista csoportok az ő azonnali kivégzésére szólították fel a pakisztáni kormányt.
Asia április 24-én felhívást tett közzé, miután értesült a bíró bejelentéséről: "Imádkozzatok és böjtöljetek velem április 27-én!" – kérte. Családja legutóbbi nekünk küldött levelében legfontosabb segítségként  szintén imát kért.
Imádkozzunk Asiáért! Fontos, hogy érezze, hogy nincsen egyedül, támogatjuk, mellette állunk. Most nem is az aláírás a lényeges, sokkal inkább az imáink és, hogy mellette állunk. Van lehetőség személyes üzenetet is írni neki. Bár lehet, hogy azokat most még Asia nem kaphatja meg (veszélyes lenne több ezer külföldről érkező levelet bevinni a börtönbe), talán egyszer el fogja olvasni őket. Az aláírásokat, üzeneteket családjának és ügyvédjének továbbítjuk, akik értesíteni fogják róluk Asiát. Emlékezzünk Petr Jasek cseh misszionáriusra, aki elmondta, mekkora erőt adott neki, amikor a szudáni börtönben egy börtönbe becsempészett mobilon követték a CitizenGO petíció állását, és figyelték az aláírások emelkedését!
A CitizenGO közössége kiáll a keresztény édesanyáért. Az érte indított petícióinkhoz több százezer ember csatlakozott, nemzetközi konferenciákon tárgyaltuk az ügyét, családjával ellátogattunk a pápához, és készítettünk róla egy filmet, hogy ezzel is felhívjuk ügyére a világ figyelmét. Ha még nem látta, most megnézheti a film rövid változatát.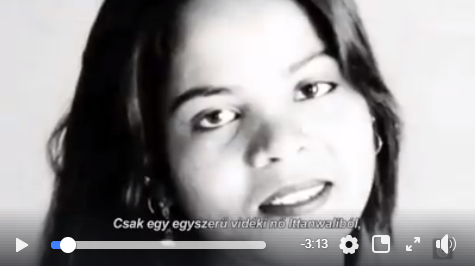 Nézze meg a kisfilmet!
"Szabadságot Asia Bibinek"
Forrás, további információ: https://www.magyarkurir.hu/hirek/aszja-bibi-imadkozzatok-es-bojtoljetek-...
By signing you accept CitizenGO's
Terms of Use
and
Privacy Policy
and you agree to receive occasional emails about our campaigns. You can unsubscribe at any time.
Kiállunk Asia Bibi mellett
Sincerely,[Your Name]
Kiállunk Asia Bibi mellett
20,913
people have signed. Help us reach
50,000
signatures.